The only requirement for membership in Sexaholics Anonymous and attending meetings is a desire to stop lusting and become sexually sober.
If you identify with us, and think you may share our problem, we would like to share our solution with you!  Newcomers are always welcome.  Many of us were surprised, and relieved, to find others just like us in SA, not the preconceptions we had in mind.  Click here for a sense of what to expect when you attend a Sexaholics Anonymous meeting for the first time.  A general description of meeting etiquette can be found here.
In defining sobriety, we do not speak for those outside of Sexaholics Anonymous.   Sexual sobriety for sexaholics of our type means no sex with ourselves and no sex with any partner other than the spouse.  In SA's sobriety definition, the term "spouse" refers to one's partner in a marriage between a man and a woman.  Sexual sobriety also means progressive freedom from the many forms of sexual thinking and stimulation and lust that enter our lives.  This freedom is found by remaining sober and by using our Twelve Steps and Twelve Traditions in our daily lives (SA To The Newcomer).
We have found that nothing else works. When we have tried to deny what our common experience has taught us, we have found that recovery still eludes us. In spite of the questions, struggles and confusion that we have gone through, we find that sexual sobriety is truly the key to a happy and joyous freedom we could otherwise never know. That's why we keep coming back to SA (Sexaholics Anonymous, p. 2,4).
Individuals seeking a different definition of sexual sobriety are encouraged to contact the other sex addiction recovery fellowships in greater Vancouver.
Sexaholics Anonymous meetings are for sexaholics only: only those seeking their own personal sexual sobriety are welcome to attend.  Family and friends of the Sexaholic are invited to attend S-Anon meetings.  Helping professionals, clergy and others seeking information about Sexaholics Anonymous are invited to contact the SA Metro Vancouver Area or visit www.sa.org for more information.  Helping professionals are invited refer clients to SA meetings right away!  Please download and distribute our SA Vancouver Meeting List Tri-Fold to those who may benefit from attending SA.  We would be happy to meet with you in person and to provide select SA literature, free of charge, should you wish to refer clients or other contacts who may be suffering from sexaholism to our fellowship.
If you are looking for SA meetings outside of the Lower Mainland, please refer to www.sa.org/f2f/.
Copyright © 2000 by Sexaholics Anonymous, Inc.
Copyright © 1989-2008 SA Literature. Reprinted with permission of SA Literature.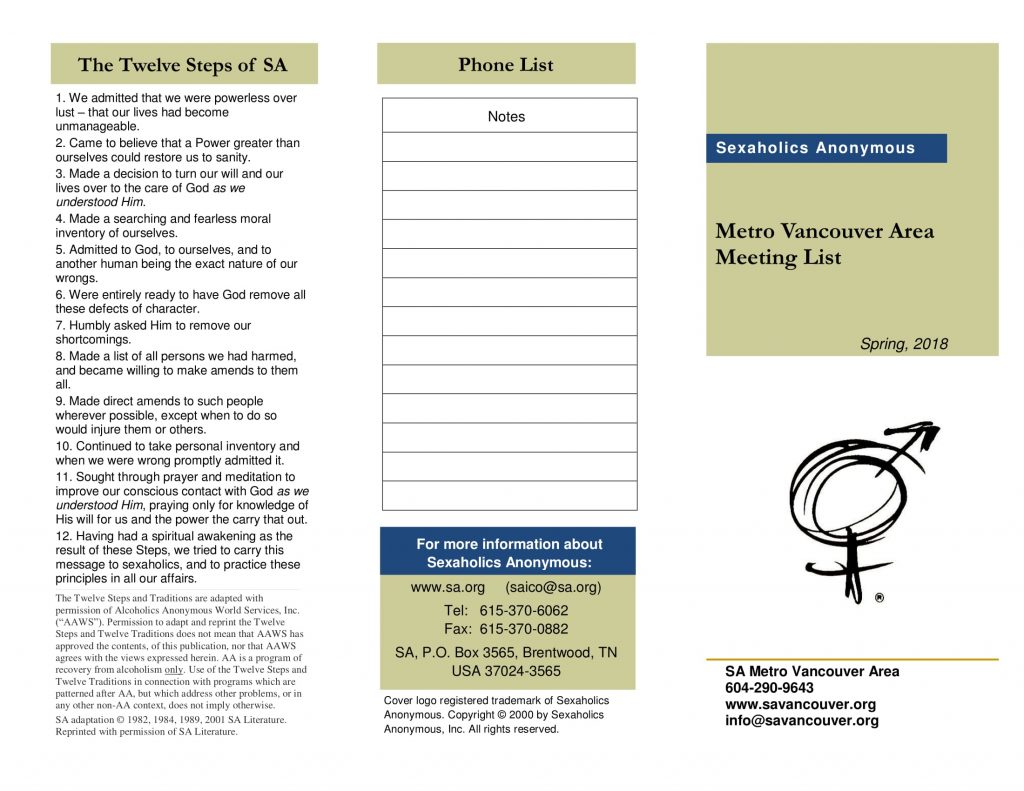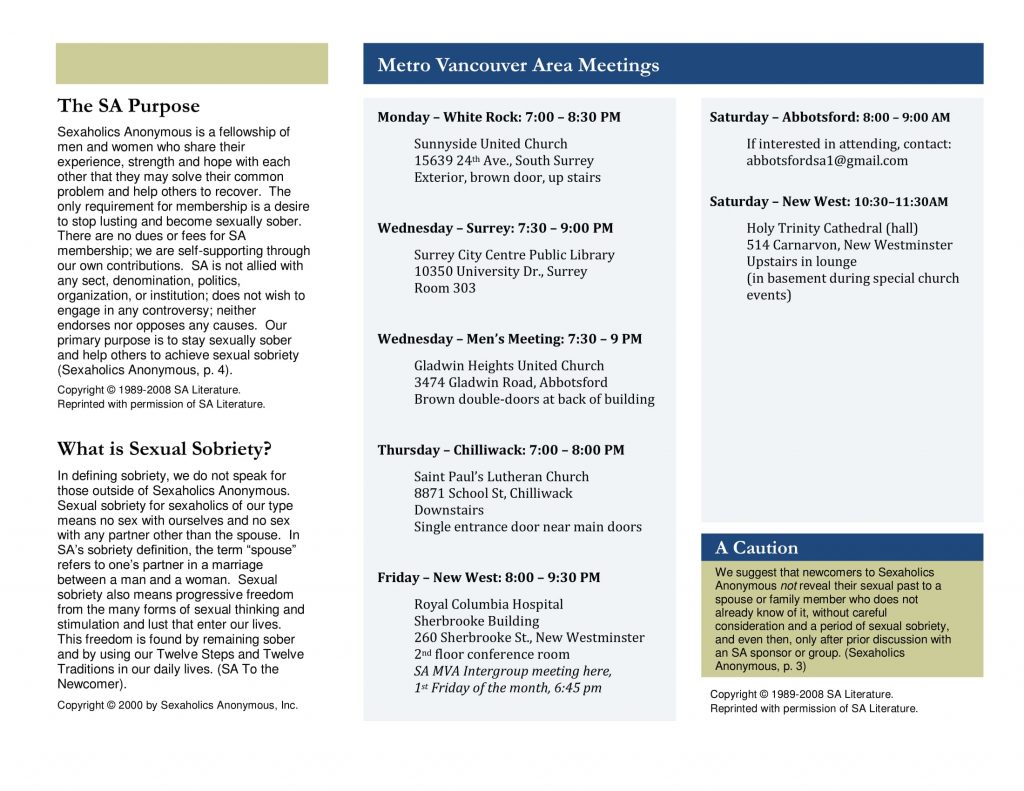 Getting to the Friday Night Meeting: